The best weed strains in Canada right now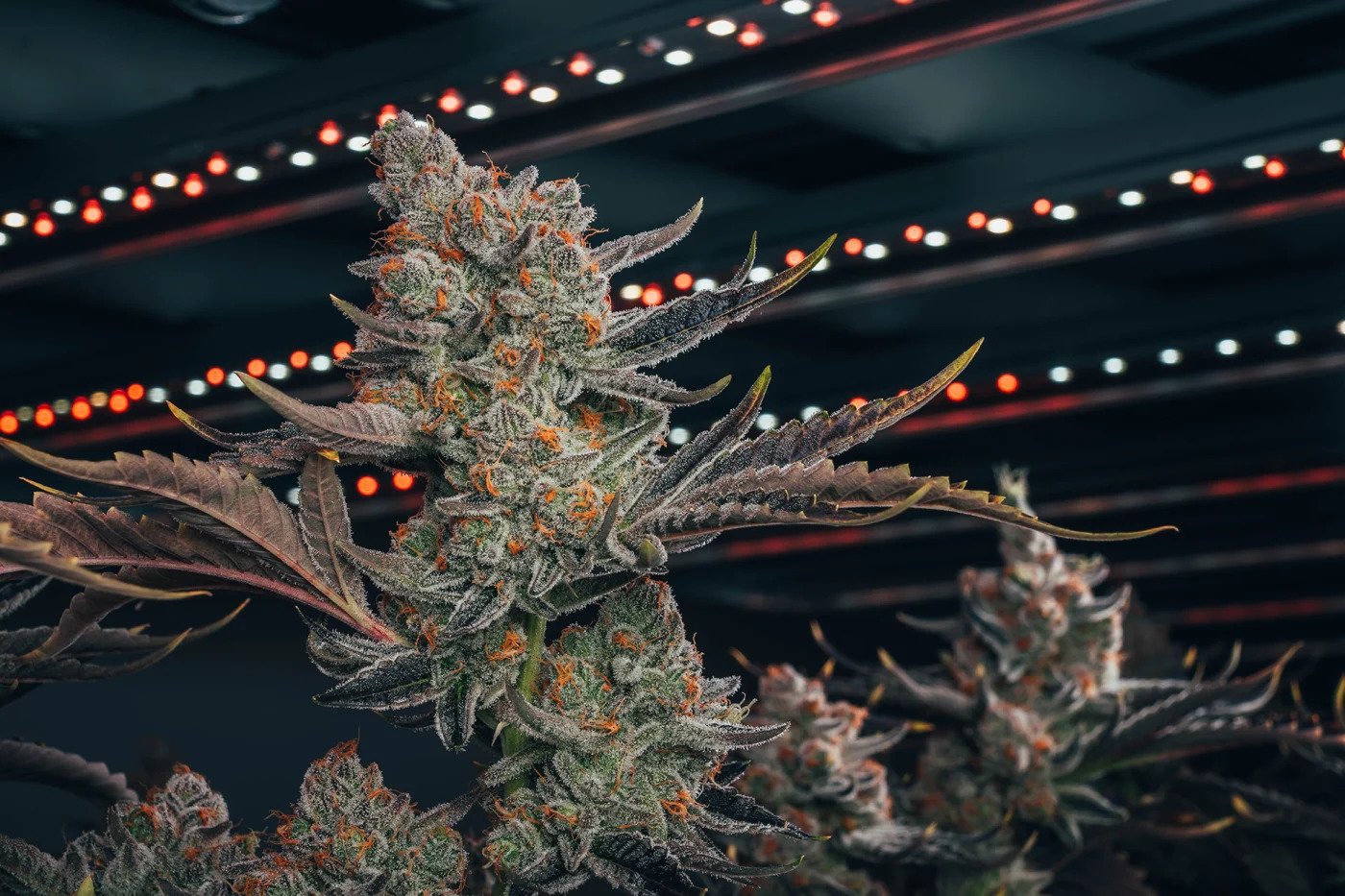 Let's be clear right off the top: This ain't no snickelfritz.  
The products listed here are among the goodest good-good that the Canadian legal market has to offer. That elusive triple good. 
Now, there's a lot to consider before you start parsing through companies and cultivars for the best Canadian weed on the market. Are you after flower or pre-roll or something else? And how about quantity? Do you want a gram, an eighth (3.5g), or are you looking for something from the large format cabinet like a half ounce or an ounce?
In Canada, it also matters where you live, because odd provincial laws can keep some buds from crossing borders, like Vancouver-based retailer and producer Burb's new B.C. Zaza, which has "B.C." right in the name, but is available only in Ontario and Nova Scotia, and not its home province due to 'tied laws' that prohibit direct connections between non-medical retail stores and federal producers. What can you do? C'est la weed. 
Also, sometimes it's just about timing. Even under expert thumbs of the world's best growers, all batches will vary, sometimes subtly, sometimes noticeably. So don't be shocked if the kush you loved so much two months ago doesn't hit the same way or smell as dank when you pick it up again.
For this list, we used a combination of online reviews from sources like Leafly, Reddit, and the provincial pushers themselves, plus input from the cannabis enthusiasts on the Complex's masthead and their pro-pot friends, to determine the loudest, most terpelicious, most consistent, and most THC-dominant strains available in Canada now. 
Most of the cultivars here were selected for flavour and/or effect, and none are what you might consider 'entry level'. You'll pay a premium at the till, but get it back in the bong. 
If your favourite didn't make the list, feel free to shout it at us on Twitter. 
Gelato #33 by Lot 420
THC: 24-30 percent
Terpenes: 2-3 percent
Availability: In Quebec, Ontario, B.C., Alberta, Saskatchewan, and Manitoba
Gelato #33 takes its number from iconic workhorse Larry Bird's Celtics jersey, and leaves most users feeling happy and creative. Will you go nine-for-ten from the 3-point line? Probably not, but you might do a decent job painting the bathroom wall. 
Buds of this Quebec-grown hybrid between Sunset Sherbert and Thin Mint Girl Scout Cookies are generally dense and wrapped with bristled orange pistils, giving off a funky pine and lemon-pepper nose and a creamy summer fruit exhalation. Swish.
Island Pink Kush by Simply Bare Organic
THC: 20-26 percent
Terpenes: >2.5 percent
Availability: In most provinces and territories
You can't have a conversation about quality cannabis in Canada without including Simply Bare. The B.C.-based company has a number of ace cultivars on the market, including a new B.C. White Rntz sativa, and their terpiest strain, Blue Dream, but it's their Island Pink Kush that gets special mention here for easily being one of the most consistent premium kushes available across the nation.
Descended from the industry classic OG Kush indica hybrid, Island Pink Kush gives off an aroma of diesel, lemon and florals, and provides an engaging mental and physical high that we recommend saving for the evening.
First Class Funk by Ghost Drops
THC: 25-30 percent
Terpenes: 3.5-4.5 percent
Availability: In Ontario and B.C., or nationwide for medicinal users. 
It's got the hype because it's worth the hype. Yes, including the $50 price tag. Packaged in a bright pink jar and sometimes accompanied by a collectors card with a pic of the bud and "genetic strain stats" (if your budtender has swiped it), Ghost Drops' First Class Funk is, as the brand says, "big on potency, big on flavour, and big on bag appeal." 
It's cultivated in small batches overseen by seasoned growers who are so fully dedicated to getting you funked up in style that they may have inadvertently created time travel. FCF is an indica-dominant cultivar that burns white with a dank and creamy flavour, and gives a lasting full-body-and-mind kick that can and will make you late for any appointment. You've been warned: set a reminder and a couple alarms if you've got shit to do. 
MacFlurry by BLKMKT
THC: 24-26 percent
Terpenes: 1.7-2.5 percent
Availability: In Ontario and B.C.
If your old black market dealer ever sold you anything like BLKMKT's MacFlurry, you'd have kissed him on the lips and asked if he was looking for investors. Large, frosty camo green and orange buds give a balanced aroma of citrus zest and gas, and come packaged in a black glass jar. (It's basically jar or bust in the premium market at this point, IMO, where impetus is put on large, pristine buds.) 
The Alberta-cultivated strain benefits from the uplifting effects of its miracle alien cookies lineage and the deeply relaxing impact of the ice cream cake ancestry—in other words, sativa and then indica—so consider booking your maiden voyage on the MacFlurry express somewhere you can get comfortable.
Mendo Breath by Coterie
THC: 21-27 percent
Terpenes: >2 percent
Availability: In Ontario and Saskatchewan 
Run by the guy who brought popular watering hole Regulars to Toronto, Coterie is another player worth watching. Its Mendo Breath Hybrid cultivar is earning stripes with strong Haze-y hybrid sativa genetics brought to life in "living soil" and packaged in compostable containers. Olive green buds with burnt orange hairs give off a spicy, mildly cakey aroma—spark it and you'll taste a bit of that spice, plus some herbs. Most fans report feeling pleasantly toasted and chill after use, which is what you want from a good hybrid. 
Afghani Bullrider by Bullrider
THC: 16-21 percent
Terpenes: 2 percent
Availability: In Ontario
Drake bought into cannabis brand Bullrider back in 2021, following his OVO OG Noah "40" Shebib. And when Drake says inhale, we say how high. Shebib was using legendary grower Jeff Tek's Afghani Bullrider strain as a way to treat the symptoms of his multiple sclerosis for years before he helped bring it to the masses (Ontario's masses, for now, though the brand says expansion is on the horizon) via the legal market. 
Wouldn't you know, the 'plant medicine' with around 20 percent THC and a sweet and sour taste also makes for a special recreational experience with a mellowing impact that will have you smiling but shouldn't leave you stuck between the couch cushions like a lost nickel. 
Sour OG by Broken Coast
THC: 20-26 percent
Terpenes: 3-5 percent
Availability: In most provinces and territories
Formerly called "Ruxton," Sour OG by Tilray's Broken Coast—another great brand with proven products available in most places in Canada—blends two stalwart strains, OG Kush and Sour Diesel, for an absolute blast of a sour-sativa experience. The green and purple buds give a lime and diesel aroma that opens for a loud flavour profile of diesel and citrus, and it doesn't get quieter from there. Smoke enough and you're liable to feel your heartbeat in your toenails. Users report an uplifting high perfect for tidying up around the house, heading out for a meal with friends, playing vids, or all of the above in no particular order.
Waffle Bites by Cake and Caviar
THC: 21-26 percent
Terpenes: 3-3.5 percent 
Availability: In B.C. 
There's been A++ weed coming out of B.C.'s Shuswap region for decades, only now you can buy it with a credit card. (Editor's note: We've sent this "research" to accounting along with receipts for purchases and, sadly, they still say it's not a deductible expense.) 
Cake and Caviar is a Certified Organic brand that grows in aquaponics systems in the B.C. Interior. It's run by parent company Habitat, which also raises organic produce like tomatoes and farms coho salmon using the nutrients leftover from the weed operation. Waffle Bites—also available in pre-rolls—is a drool-inducing cross between cheesecake and sour OG that's sweet and savoury on the palate and definitely sativa-leaning in its effects. Walk your dog, and smoke up your dawg, but never get the two confused. (Special mention also to Blueberry Yum Yum, another absurdly delicious option from C&C.)
Animal Face by Carmel
THC: 24-30 percent
Terpenes: 2.5-3 percent
Availability: In Ontario
If there's one bud Ontario's shoppers can lord over the rest of Canada, it's this orange and green gem. Animal Face stands out on the craft shelf in Ontario for its somehow relatable name, and as an exceptional sativa-dominant hybrid in a shop full of indica-leaning offerings. It's got more vanilla and citrus notes than its Californian Face Off OG grandpappy, but is just as renowned for its mood- and energy-boosting effects. Roll one and put it in your pocket to take it with you to enhance whatever Sunday afternoon plans you have.
Platinum Grapes by Organnicraft
THC: 24-30 percent
Terpenes: >3 percent
Availability: In B.C., Alberta, Saskatchewan, and Ontario in May
Organnicraft's Legacy growers are not fucking around in their small-batch growhouses in Vernon, BC. The quality of all of their cultivars, including the star Platinum Grapes, is top notch. Platinum Grapes' hand-trimmed buds are dense, dark and crystally, and give off a phenomenal terpene profile with a grape and soil aroma and a sweet berry flavour. The effect is an instantaneous upper—almost a frenetic cerebral vibration—followed by a full-body relaxation that's perfect for physical activity. 
420 Intel is Your Source for Marijuana News
420 Intel Canada is your leading news source for the Canadian cannabis industry. Get the latest updates on Canadian cannabis stocks and developments on how Canada continues to be a major player in the worldwide recreational and medical cannabis industry.
420 Intel Canada is the Canadian Industry news outlet that will keep you updated on how these Canadian developments in recreational and medical marijuana will impact the country and the world. Our commitment is to bring you the most important cannabis news stories from across Canada every day of the week.
Marijuana industry news is a constant endeavor with new developments each day. For marijuana news across the True North, 420 Intel Canada promises to bring you quality, Canadian, cannabis industry news.
You can get 420 Intel news delivered directly to your inbox by signing up for our daily marijuana news, ensuring you're always kept up to date on the ever-changing cannabis industry. To stay even better informed about marijuana legalization news follow us on Twitter, Facebook and LinkedIn.